Facebook lead ads are basically promoted forms. These forms allow marketers to capture details from customers while offering opportunities to connect, such as newsletter subscriptions, demo requests, or contest registration.
When someone clicks on a lead ad, they presented with a form that's pre-populated with information from their Facebook profile. The rest can be completed in a few easy steps.
This generation technique is very effective because Facebook users do not have to leave Facebook in order to follow up with you later.
This is good for both, Facebook and the marketer since social media advertising is interruption marketing some people don't like to be distracted from their "social time".
You will start your campaign with selecting the "Lead Generation" objective as shown in image below: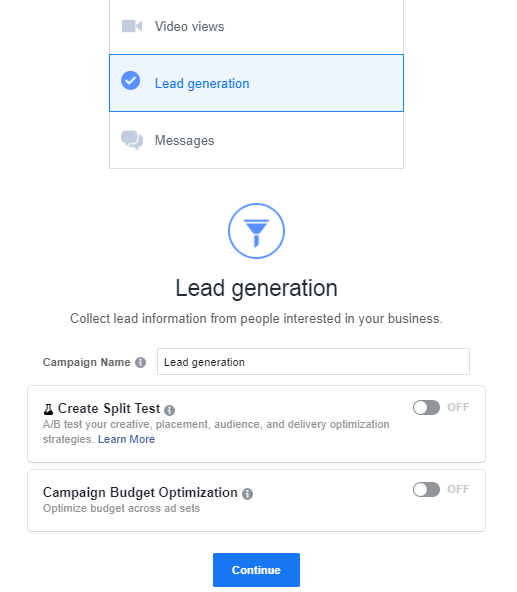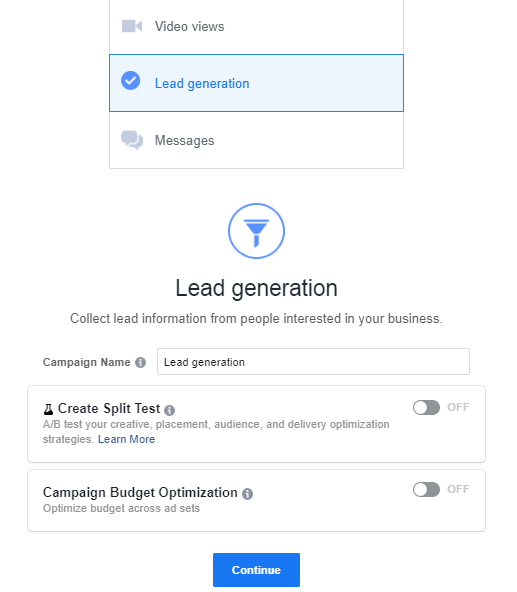 On the next screen scroll down and click Contact Form. Here you can add a form title, add an intro, questions, your company's privacy policy, and a thank you screen.
Intro:

 

Use this section to clearly explain why people should fill out your form.
Custom questions:

 

There are two types of questions you can choose: Standard questions (ie. gender, job title) and custom questions. Ask custom questions that pertain to you business, for example: "When are you looking to buy a new car?" Up to 15 questions can be included. Some governments bar advertisers from requesting certain information,
Form type:

 

Under Form Type you can select: More volume or higher intent. Choose more volume if your campaign goal is to get the form completed by as many people as possible. Selecting higher intent adds a step to your form that allows people to review and confirm their info before they hit submit. This is a good option if your objective is to seal a deal.
Privacy policy:

 

Facebook lead ads require a link to your company's privacy policy. Make sure you have a page on your business website.
Thank you screen:

 

This screen will appear after the form is submitted. You can also include a call-to-action or download link here.
Tips for creating Facebook lead ads that convert
Offer an incentive

Get deals and offers
Enter sweepstakes and contests
Receive product samples
Attend an event
Pre-order products
Download studies and whitepapers

Be clear about your offer
Use compelling content and formats
Keep your form simple
Ask the right questions
Target the right audience

Lookalike audiences
People near you
Custom audiences

Follow me on: 
YT
FB
IG