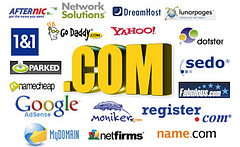 Domain registration is relativelly simple process and you could do it with several registrars.
The price of domain name registration may slightly differ with different companies.
Website domain registration may be considered to be done with the registrar with with you want to host your site with.
This may make some things easier in the long run.
What are some common registrars?
Here are some common companies for domain registration:
google domains dot com
name dot com
godaddy dot com
hostgator dot com
namecheap dot com
Try to buy a ".com", ".net" or ".org" since they are preffered one's and tend to hold greater value than the others.
Private registration
Privacy protection hides personal contact information from complete strangers. It hides personal contact information from spammers and con artists.
Be wary of any items received in the mail regarding your domain, and always contact your current registrar before responding to such solicitations.
While privacy protection is enabled, the domain transfer authorization email will be sent to the dummy email address listed rather than the registrants email address, making the transfer fail if not authorized. Most (if not all) dummy email addresses provided by registrars do NOT forward to the registrant's email address.
Privacy protection isn't a necessity, but the cost can certainly be considered nominal for the benefits it provides, particularly if they meet your desire for heightened anonymity online.
Buy domain and hosting here: http://wordpresshostingdomain.com I will do the initial setup of your site the same day (if possible).
For keyword research  you can use Google Keyword Planner tool where you can see the seach volume for your relevant keywords (I will make another video on that).
For domain availability I was using domize.com
For estimation I use estibot.com and domainindex.com and you will have limited number of free quesries per day because they want to sell their paid service.
Other sites that offer similar sevices are: Valuate.com, Godaddy.com, Sedo.com…
If you like this video please like it and subscribe to my YouTube channel.
#wordpress
#domainregistration

Follow me on: 
YT
FB
IG