Four Percent Challenge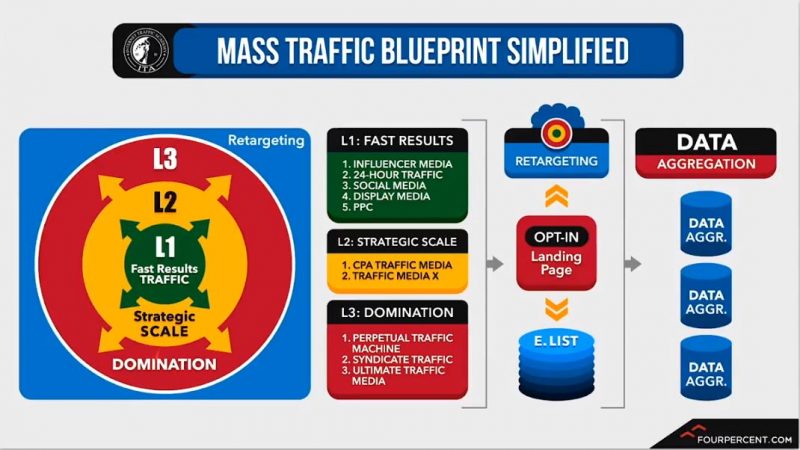 ---
About
Four Percent Challenge is a training program done by Four Percent – an online (marketing) education company which started mid 2016. It provided a platform for educating online entrepreneurs on how to build and grow a successful online business using latest technologies and automated systems.
Here is their vision statement:
Our vision is to create the world's biggest and most trusted one central hub for entrepreneurs; to build a place where entrepreneurs and business owners would come to get inspired and find best trainings, tools, and resources that will help them become great.

Taken from fourpercent.com "About Us" page
Their education process involves members taking online video lessons which consists of practical implementation of steps outlined in the videos. Video lectures are of "watch over my shoulder" type which makes it really easy to follow and something unique in this industry.
Some of their courses are free like for example 75% of courses here and some are paid like for example Internet Traffic Mastery course where both types provide a great value and education to their members.
Platform
The Four Percent platform has also built in multiple streams of income (MSI) eco-system. You can sign up as an affiliate for different online programs (software, courses, lifestyle products and many more to come) where you can earn affiliate commissions without doing any additional advertising.
Your advertising boils down to introducing The Four Percent educational platform to people they are looking to learn how build an online business. The platform's eco-system takes care of the rest by you just having your affiliate links setup in the admin section. This is a very powerful way to generate commissions from multiple products without extra effort and extra advertising spend on your part.
The key how you will go about maximizing your advertising dollar is in the training on how to build (automated) systems which will work for you 24/7. The build in MSI will amplify your profits because in your pipeline you have multiple products listed which generate you commissions from each sale as well as recurring monthly commissions from get re-bills.
Becoming Independent
You are basically plugged into an existing business system that not only saves you money but also saves you precious time since everything is built into the platform. So you not only have a learning platform that teaches you how-to, but also ready made, high ticket products from the best in the respective industries, with all the tools necessary for business growth.
This platform does not hold you hostage to be on it forever but rather teaches you how to becomes an independent entrepreneur by teaching you how to build your personal brand.
The goal is to have best experts and their courses and coaching programs available on the platform for personal and professional development. There will be 15+ largest industries included so the platform it will have something for everyone to benefit from.
Mentor
Vick Strizheus is a mentor who has been one of the most successful in the industry who started his career with affiliate marketing. He was winning many leader boards in the past. He really mastered this process so he has much to offer as a mentor who can take you by the hand. You will be watching over his shoulder the steps on how to get results. It really does not get any simpler than that.
As of today Vick has directly coached well over 3,000,000 students from over 180 countries and created many thousands of success stories. All of his trainings and work, including Four Percent, is centered around 2 things: simplicity and results.

Taken from fourpercent.com "About Us" page
To accompany the platform there is a private Facebook group for members only. Members share their stories of success and discoveries. Here you will have additional support from Vick and from other students so you wan't feel alone.
Four Percent Challenge
Current available training for the members contains 3 different levels from which the first level is available and the next two are coming soon. Level one of the "Four Percent Challenge" contains training that will teach you how to make your first $10K online. The potential of the training exceeds far beyond that as we just recently (May 2019) had one member who just crossed six figures. All he did was implementing what he learned from the Four Percent Challenge.
Of course there is no such a thing which will bring results overnight. But if you can set aside 2-3 hours every day you could potentially change your business and your life. And this is after completing only the first level in one month. If you can dedicate 1-2 hours per day you may be able to complete level one in about two months. This depends how fast you can absorb the material but the teaching is really there for you.


Cost of the Four Percent Challenge
Recently the cost of joining the Four Percent Challenge was only $49 per month with the option to get lifetime membership for $497. Recently the price went up to I believe $197 per month which is kind of still great deal because you are getting a world-class training with the potential to change everything for you depending how much you are willing to work on it.
The membership will give you access to the Four Percent Challenge and to your Multiple Streams of Income (MSI), and available done-for-you funnels where you will be driving traffic to (will learn this form the training).
One of its core products is the highly recommended Internet Traffic Mastery course. Here Vick takes you through the journey of using 30 traffic sources so you will never depend on only one traffic source. With this knowledge and knowing how to build systems you will be able to DOMINATE any market you enter using the Four Percent Challenge strategies.
See the core products here…
Tools Needed
In order to run an online marketing business you will need few more tools which some of the are required and some are highly recommended.
Required:
Recommended:
Note: when it comes to funnel builder I highly recommend Clickfunnels because the training contains ready made funnels you can copy into your account by just clicking on a link. This can save you a lot of time because of makes having a copy of a funnel virtually instant. It takes few minutes to change the links in the funnel to your own affiliate links and you are good to go.
If you want to give it a 14-day try, you can copy this funnel and plugin into it a product from AliExpress and sell it. Please let me know if you have any questions. After the trial period you can keep the funnel and clone 2 more funnels (which is enough to get started) for only $19 per month.
Credibility of the Four Percent Challenge
The idea is to make this platform as transparent as possible. Also to show a reputation of best practices in the industry. In order to achieve this, the rating system comes from a third party rating company. So far it shows a TrustScore 9.7 out of 10 star rating which speaks for itself. I myself am a lifetime member of Four Percent since 2018. In all sincerity I say that the value/cost ratio is one that cannot be matched anywhere in the industry. This I say that with confidence. In the past I have spend a significant amount of money learning from different mentors and buying online courses but I stuck with this program since 2016.
Why Affiliate Marketers FAIL
So STOP wasting your time and get on board with Four Percent Challenge. Watch "over the shoulder" step by step easy to follow instructions as your Mentor is showing you so will not wonder anymore how it is done.