Video Course Cash Kit – Online Courses
This is a video course collection system of 60+ video training courses showing different platforms and how to utilize them for making money online by creating online courses.
In addition there is a Guaranteed $100 Method training.
Bonus includes FREE Skill share training + access to 2 closed Facebook groups where you can ask questions to get help regarding your online business and some 10 others (WordPress plugins and themes).
Why should you consider buying this course? Because it also gives you resell agency rights where you can sell this product to others as your own.
Here is what the main training consists of: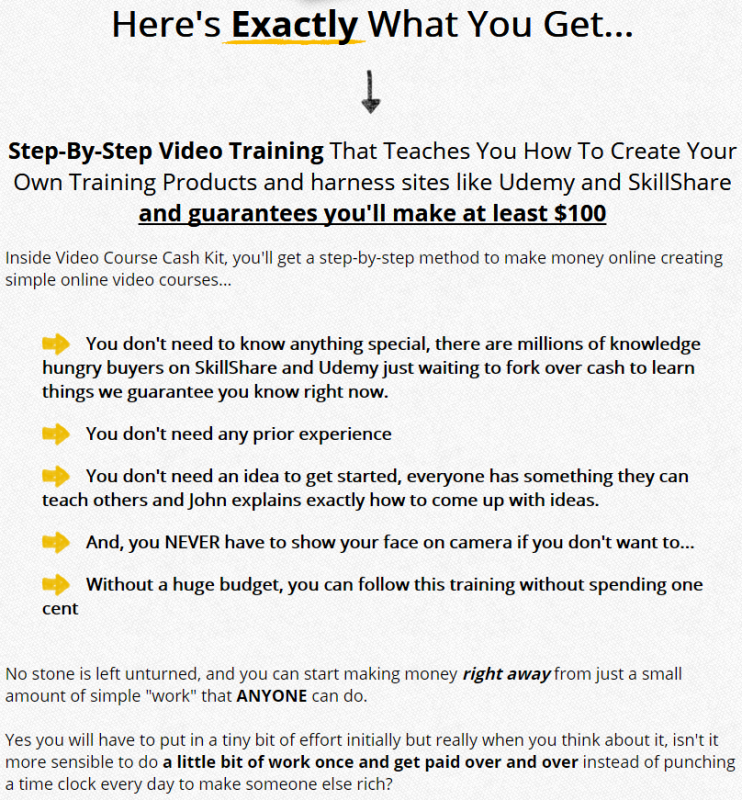 01 – Training intro
02 – Income proof
03 – Why teach online
04 – The pattern I noticed
05 – Coming up with ideas
06 – My courses
08 – Microphone
09 – Camtasia MovieMaker
10 – Cell Phone Stabilizer
11 – Perception
12 – Making Edits
13 – No Slideshows
14 – Greenscreen
15 – Lighting
16 – What is Udemy
17 – Make money on Udemy
18 – Home announcements
19 – Course content and info
20 – Course settings analytics
21 – Create courses quickly
22 – Amazon affiliate course
23 – What is Skillshare
24 – How you earn on Skillshare
25 – Skillshare management
26 – Skillshare edit
27 – Teacher challenges
28 – Announcements
29 – Create short Skillshare classes
30 – Skillshare case study
31 – File organization
32 – Progress tracker
33 – Pretty link coupons
34 – Facebook groups
35 – Coupon sites
36 – Forums
37 – Paid advertising
38 – Giving away paid courses free
39 – Self promotion
40 – Lessons learned
41 – Why build a free course
42 – Affiliate example
43 – Why teach with co instructors
44 – Simple co instructor setup
45 – Co instructed courses
47 – Take existing courses
48 – Affiliate Income Secrets
49 – Improve your existing courses
50 – Promo video sales page
51 – When your courses grow
52 – Amazing
53 – StackSocial
54 – Promoting outside Udemy
55 – Teachable
56 – Promotion – big disadvantage
57 – Thank you / conclusion
BONUS1-Interview-Rob Cubbon
BONUS2-Interview-Howard Lynch

To read all the details, please check out the sales page here (or click the image above)…

Follow me on: 
YT
FB
IG